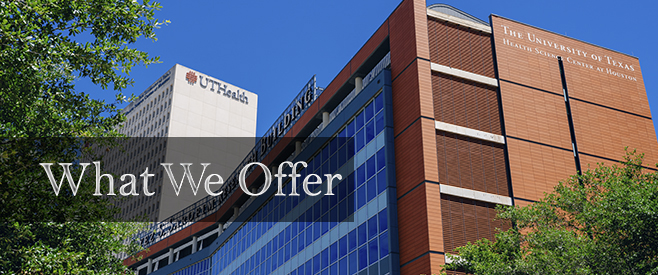 At the University of Texas Health Science Center at Houston (UTHealth), we strive to promote efficiency between time at work and home. We offer benefits such as our Employee Assistance Program (EAP) to promote and assist with balancing work, family and health. We also have a partnership with Care.com, which is a resource for assistance with child and elder care.
Work Environment within the Institution
We promote collaboration, creativity, innovation, and excellence in our approach to our work. As our logo demonstrates the value and identity of each individual component of our institution works in tandem to form a greater whole.
UTHealth Recreation Center
Physical wellness lends to greater focus, mental clarity, and a sense of overall well-being. Employees can enjoy access to our UTHealth Science Center Recreation Center, a fitness center equipped with weights, fitness equipment, a swimming pool, basketball court, and opportunities for group sports and personal training.
The Learning & Development (L&D) team in Human Resources provides professional, leadership and organizational development services to help employees and departments develop professional competency and improve performance. To that end, the L&D team serves as a strategic business partner to UTHealth leaders in delivering performance results. We accomplish this by collaborating and promoting UTHealth's values, culture and strategic goals through individual learning and development programs as well as group training and development programs.
Sample Learning & Development Programs and Services available to UTHealth employees include:
Professional Skills Development
Leadership Development and Executive Coaching
Team Building and Organizational Performance Solutions
New Employee Onboarding and Acclimation
Project Management Training
Peer Mentoring
Technical Skills Development
UTHealth offers employees and their family members an employee assistance program that assists with any personal problem or stressor affecting the employees' lives. The EAP is a confidential and free program that provides counseling and WorkLife services to help employees balance the demands of work, personal and family issues.
It only takes one phone call and the EAP can arrange for the employee or family members to meet with a licensed mental health counselor speak with an attorney/financial professional or consult with a worklife specialist to solve any child/elder care resource issues that you need.