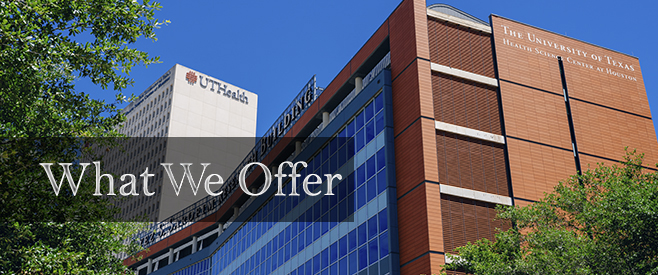 UTHealth Houston offers competitive salaries designed to reward education, experience, and excellent performance, as well as a first-class benefits package that includes medical, dental, and life insurance plans, retirement plan options, tuition program, generous leave programs, and more. For more information on our benefits programs, please refer to the UTHealth Houston Office of Benefits website.
UTHealth Houston promotes a collaborative working environment that encourages creativity, innovation, and excellence in the workplace. Additionally, we strive to create a culture in which faculty, staff, trainees, and students are able to correlate their work contributions with the university mission; all while being recognized for their efforts. UTHealth Houston is committed to creating an institutional culture that fosters and celebrates diversity and inclusion.
UTHealth Houston is dedicated to providing support and opportunities for success for its employees, as evident by the average length of employment being 7.5 years. We provide a workplace environment that encourages advancement from within, offering a wide range of professional and career development courses and workshops designed to help faculty and staff grow in their current positions while preparing for the future.
UTHealth Houston believes in a balance among all aspects of life such as work, family, and health. We offer benefits to assist employees with this balance such as robust Employee Assistance Programs (EAP) and other partnerships that are resources for UTHealth Houston employees. These benefits cover physical and mental health programs, financial and legal resources, child care and elder care referrals, and more..